As most search marketers now realize, whether you're marketing through Adwords or SEO, your site needs to be Googlebot-friendly as well as linked up in an authoritative and trustworthy manner.
The lines between "SEO" and Adwords quality are blurring more and more.  Organic search penalties from Google can now affect your ability to run ads on Adwords and you need to be on top of how your site is being perceived by Google.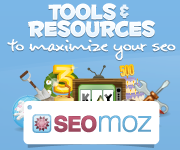 In light of this, I'm recommending that you take a close look at SEOmoz's Pro services and use their tools and instructional content to position yourself as trustworthy and authoritative in Google's eyes.  So without further ado, here's an overview and my impressions of the SEOmoz Pro Tools system…
Pro Tools Overview
SEOmoz has an extensive library number of tools and resources available to their PRO Subscribers. Check your site rankings, see how your site stacks up against competitors, and find any potential problems as well (4xx errors, dupe titles, etc). Add to this almost weekly videos and webinars with online marketing experts who share their tactics and strategies, and before you know it you'll be ranking higher than ever.
SEOmoz Pro Highlights
Extremely well designed and intuitive interface gets you up and running quickly.
Ability to compare your site versus competitors side-by-side, showing you where your strengths and weaknesses are.
Constantly rolling out updates to their tools, adding new features and functionality
Current, relevant and actionable advice through their PRO blog posts and webinars
Getting Started with SEO Moz Pro
Getting started is a snap. First of all, SEOmoz provides a free 30 day trial, meaning you get full access too their suite of PRO tools, webinars and tutorials. Beyond the 30 day trial, there are several subscription plans available.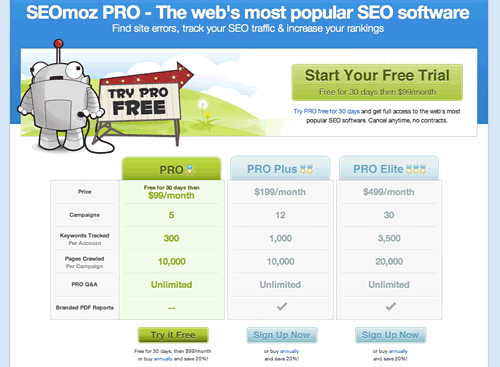 Setting up your first campaign
SEOmoz's excellent user interface walks you through the process of setting up your first campaign with ease.
First, you choose if you want to track a Subdomain, Root Domain or Sub folder:

Once you've chosen which domain you want to track (for this test I selected PPCBlog.com), continue to the next step.
Select Targeted Search Engines
This is a feature I was VERY impressed with. Sure there are dozens of 'rank checkers' out there. But how many let you target regional search engines? And not just .co.uk and .de – but how about Google Canada? How about Google Canada – en francais? How about Bing in Argentina? This is great if you, like me, run sites in various countries. SEOmoz lets you choose up to three – personally I'd like to see that number increased.
For our test PPCBlog campaign I chose Google US – English, Bing US – English and Google UK: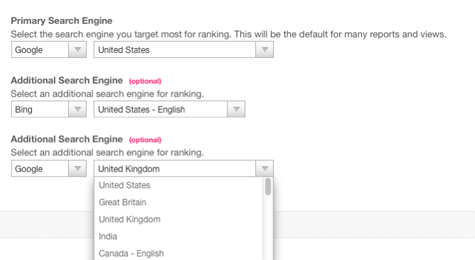 Track your Competitors
Here is where you can add up to three competitors to track. SEOmoz will not only track the sites you list there, but also compare various metrics between them and with your own site so you can see how you measure up:

Keyword Tracking 
The next step in setting up your SEOMoz Pro Campaign is to add the keywords / phrases you want to track. You can add up to 5 keywords to track:

And that's it! Hit the "Create Campaign" button and SEOMoz will begin crawling your site, gathering data and producing some very interesting reports. SEOMoz will only crawl 250 pages of your site initially, which should be enough to get you started. It'll take around 3-7 days for them to crawl a larger site though.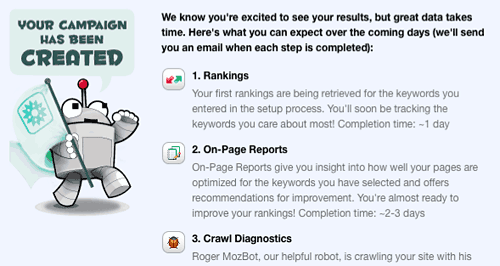 What other useful tools does SEO Moz Pro offer?
Lots. Seriously. I'm not going to go into detail for each and everyone of the tools include with the Pro subscription, but I'll talk about my favourite ones:

 Link Research & Analysis
While you can use the free version of Open Site Explorer, the Pro version gives you quite a bit more insight. Especially useful is the comparison feature. Enter up to 5 websites to compare, and look at just about every metric you can think of. Linking root domains, how many Facebook likes and shares a page has, and much more.

You can also generate some powerful reports that can show which of your competitors links are 301′s, coming from the same or different class C blocks, links to internal pages and subfolders, etc. This feature lets you export all this data, and variations thereof into a CSV file for easy sorting in Excel. Be prepared to completely reverse-engineer your competitors SEO strategy with this!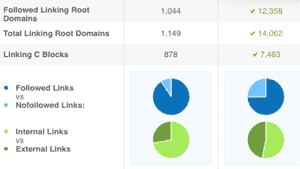 On-Page Report Card Tool and Crawl Test Tool
These are tools for beginners and advanced SEO's alike. While advanced SEO's might not 'learn' anything here – it's a great way to double check you haven't overlooked anything – and with larger sites, that's easy to do. For the beginner, each category that gets graded will tell you where you can improve, how to do it, and why. Clear, actionable steps to easily improve your rankings.

The Crawl Test Tool, specifically, can identify major site structure issues, which hopefully you don't have- but with larger sites with thousands of pages, it's a very real possibility that something isn't working properly – especially depending on your CMS. SEOMoz's RogerBot crawler will tell you of any 4xx errors, how many links are on each page, whether there's any duplicate URL's not using the rel=canonical tag, as well as check your meta description tags.
Keep up with your progress using the Rank Checker
These days Google makes it increasingly difficult for people to check their rankings. Personalized search, regional targeting, and search history can all skew your results when checking from your computer – even when not signed in to your Google Account. Using SEOMoz's Pro Rank Checker, you can track your keywords and any movement in several support search engines and languages.

Keep Learning and Expanding
Some of SEOMoz's highest value products are the Pro Webinars, SEO Q&A, and SEO Community (YOUMoz). The webinars in particular have a wealth of information about current SEO tactics, marketing advice, and industry news. You can download the Power Point presentations and follow along as well as access the archive of past Pro Webinars.

Whiteboard Friday videos also usually feature Rand or another SEO expert explaining various tactics and strategies for upping your SEO game.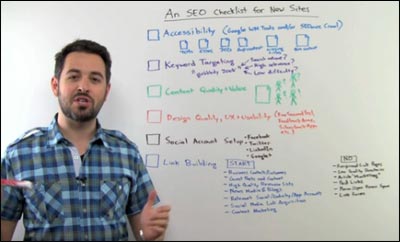 Overall, the SEOMoz Pro suite of tools is a must have for anyone who is serious about ranking. If you're an SEO consultant with several clients, the Pro set of tools will help you manage and organize your clients' websites and provide excellent, thorough reports for them.
While there may be some overlap with other SEO tools available on the market, I'm sure you can tell by my review of  the SEOmoz Pro tools that they clearly deliver some of the most detailed and extensive reports possible – and they're constantly adding new features.
If you're an independent online marketer with a network of your own sites (or even just one site), the same benefits apply – information is the key to success with growing your websites, and the SEOMoz suite of tools will help you track your success and diagnose where you can still improve.

All that said – the SEOMoz Pro Tools are available FREE for 30 days, so don't just take my word for it – Try them out for yourself!