A few months ago, Brian from Copyblogger told me about a WordPress landing page system Copyblogger Media was working on called Premise. At the time, it sounded very promising: a plugin-able WordPress framework with a collection of pre-optimized templates and call-to-action graphics that you could host yourself without paying fees on a CPM basis to use it (unlike some of the landing page templating solutions currently on the market).
Now that I've had a bit of time to play with it, I thought I'd share a full review (something I haven't done on PPCblog before).
Installation
I tested Premise on both WordPress 3.0 and 3.1, but I needed to upgrade my PHP install from 4 to 5 before I could successfully activate the plugin. Additionally, your wp-content/uploads folder has to be writeable via the folder permissions settings in your FTP client. Following that, you basically just dump it into wp-content/plugins and activate it like any other WordPress plugin. Pretty simple.
Pre-optimized Lander Template Styles
To start off, here's the kind of pre-generated templates Premise has built in (Click thumbnails to see a demo of each page type):
Post Install – Create Your First Lander
I consider Premise would qualify as a WordPress "framework" system not really a 'theme' per se. It installs to your wp-content/plugins folder, and creates custom panels in your WordPress dashboard (similar to the way Copyblogger's other framework product Genesis snaps in):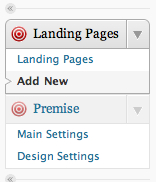 When you go to create a new page you pick the variety of lander you want to build: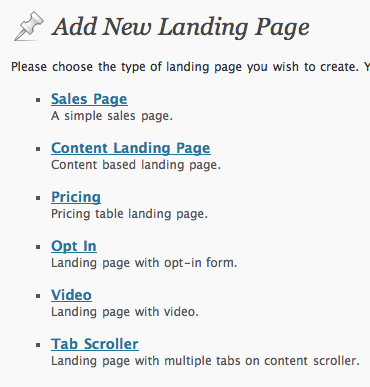 Copywriting 101 Baked-In
Once you've selected a page type you'll see a different-looking WordPress layout for page creation that gives you a lot more control over the various elements of the page.
The first area you notice is the new Headlines boxes, you an additional headline option that gives you the chance to put in properly sized 'subheadline'…nice touch.

In the copy edit window, you'll see a few new little buttons, the first one pops in sample copy Brian and the Copyblogger team have come up with to work as a 'best practices' guideline for you to fit your copy into rather than just leaving you staring at a blank page.




This has to be one the best parts of the framework, the sample copy can spark your imagination and help you come up with compelling copy.
In fact, if you're having trouble coming up with copy that will actually sell, Copyblogger includes a pane right inside the edit screen in WordPress full of copywriting tips and tricks: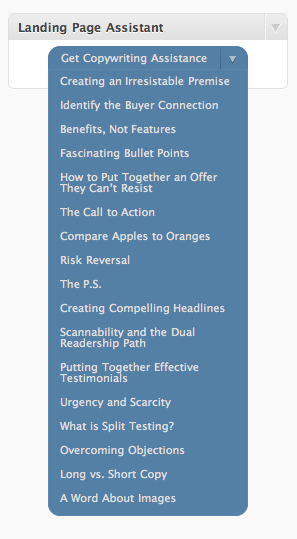 Promotional Graphics Included
The next button pulls up a HUGE library of free promotional graphics their team includes with Premise for free, check this out: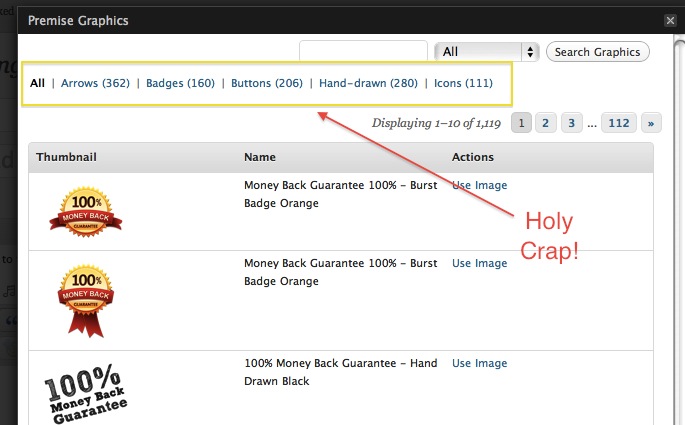 The interesting part is that the image gallery appears to be fed by Premise's server so you don't have to wait for hours for all of the images to upload with theme to your WordPress site. Smart.
I had a chance to go through all of the graphics, and it's a pretty impressive collection that you have full rights to use on Premise-generated landing pages. Here's some of my favorites:
Insert LeadGen Anywhere
The other new task buttons allow you to insert an email collection box

(directly connected to your Mailchimp, Aweber or Constant Contact account) right into your lander. I connected my Aweber account to Premise via Aweber's apps feature, and Premise pulled in my existing email collection form without my having to recode what happens when an email is collected and the rest of the existing signup flow: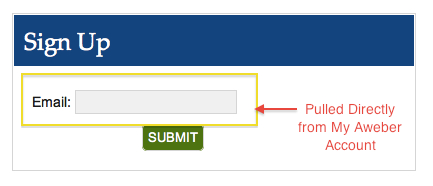 Finally, the small yellow button:

inserts a "notice box" that puts a nicely coloured yellow 'call out' box into your page where you can add special text you really want to stand out.
SEO, Website Optimizers, Split Testing
After you've completed your copy and layout, Premise has a few options for customizing SEO settings like title tags and meta, as well as options to block googlebot from indexing your landing page if you choose.
Just below you can auto-insert your Google Website Optimizer or Visual Website Optimizer code and Premise will place the tags in the right place in the lander code to ensure your multivariate tests work properly from the beginning.
There's also a cool option to create an identical clone of the lander you've just built for A/B split testing purposes:

Colors, Fonts & Design Tweaking Galore
If you're not keen on the default fonts, colors, layouts or graphics, you can tweak pretty well everything within the Premise Design panel, no custom CSS required. The level of granularity here is impressive: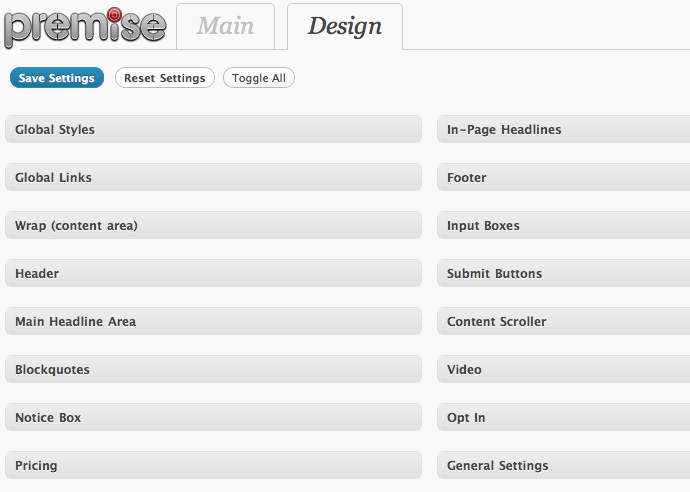 Pricing
Copyblogger has priced Premise at $85 USD for unlimited use on as many domains and landers as you want, but version updates, support and new additions to the graphics library will only be available to you for 6 months. They also have a lifetime updates plan for $165. In my opinion either option would be worth it when you consider what it costs to have a single lander developed, let alone with all the copywriting templates Premise builds in.
Overall Thoughts & Impressions
Almost everyone is running WordPress these days, and too often landing pages have been built outside of the WordPress CMS and just 'hang off' the core site like orphans. Premise lets you bring them into your site's CMS without screwing up your SEO, mainly because you're given the options in Premise to control how Google views the pages (if at all) and you can align common header images and footer content across content pages as well as landers.
The default templates are tremendously well laid out, as you'd expect when they're designed by people who market content online for a living. The technical features aside, the copywriting templates are worth their weight in gold. They help you push beyond just extolling "features" of your product and focus on detailing the benefits your customers will achieve with your product or service.
In my opinion this WordPress plugin model is better than paying 'per impression' for landing page templates as some services currently do. You don't end up getting 'punished' for having a lot of traffic and being successful.
From a PPC perspective, the basic elements that Google looks for with Landing Page Quality Score are accommodated with Premise landers, and the professional design style should more than pass the 'sniff-test' for Adwords reviewers, much more so than the 'trashy' sales letter templates. The resulting web code is reasonably clean and shouldn't cause any issues for Google's adbot.
The templates are somewhat monochromatic at first, but once you add in the button and badge graphics along with your own header image, it gets a lot brighter. The selection of templates cover just about every type of lander you might want to create except for one: a "deals" lander. I'd like to see Premise build a template for a Groupon-style deal or coupon offer as these "Deal of the Day" style lander designs are becoming the standard for "specials" of all types.
All in all, I think Premise is the fastest way to build landing pages in line with conversion optimization standards. When you add in the fact that 99% of us are using WordPress backends, it's even more attractive.
Premise is available for download now at GetPremise.com