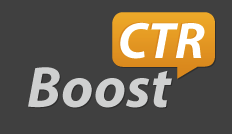 About a year ago I chatted with David from Boost CTR about his new business, designed to get writers to compete in contests for their advertiser customers to see who could write the highest CTR ads.
If the writers' ads performed better than the customer's control ads, Boost CTR gets a small commission.  Pretty simple yet brilliant value proposition for Adwords advertisers who want to see if they can jack their CTRs, which in turn earn them higher Quality Scores and lower CPCs.
Four Challenges to BoostCTR's Model
It's kind of like the TV show "Survivor" for ad copy writers.  I wasn't sure if it would fly however for four specific reasons:
Would enough decent writers actually participate in the contests to get some decent results?
Would said writers know enough about each advertisers' niche to actually write effective ads?
Would said writers toilet my brand by running ads that weren't a fit or appropriate for my campaigns and my business?
If I gave Adwords API access to BoostCTR would they be able to steal my campaigns and compete with me?
Add to that from an entrepreneurial standpoint: Could BoostCTR carve out a decent business even though they don't offer soup-to-nuts campaign management, a bid management system or keyword research solutions like most of the PPC performance enhancement platforms offer, aka. "Can they make a successful business by focussing on ad performance improvement only"?
Well, it's now a year later and their business is booming with a whack of big-name advertiser clients, so I guess so…:)
How it Works
OK, so here's how BoostCTR works for me as advertiser:
First, I sign up and submit one or more ad groups for improvement.
After I've submitted at least one ad group, BoostCTR's expert writers compete against each other to beat my best ads.
I only pay when BoostCTR is able to beat my current control ad. (I can track either CTR or conversions to determine the winner.)
Here's some screenshots of the advertiser UI (Click to Enlarge):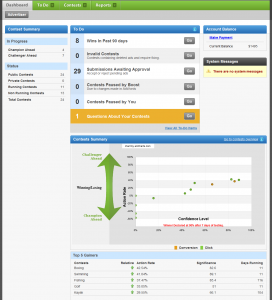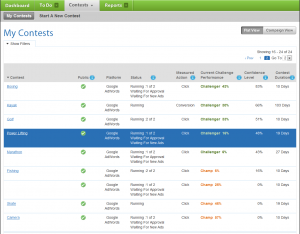 From what I've see in Google ad copy lately, many, many PPC managers could use a hand in the ad copy department, so a bit of fresh blood writing for you can't hurt here.  In fact, it's not uncommon for PPC managers to split-test a few ads, then leave the best performing ad uncontested for months at a time.
Then there are active PPC managers who've been writing ads for the same business for years. They're always testing new creative, but they've gone through all their best ideas and need a fresh perspective from somebody who's seeing the account for the first time.
It's kind of similar in many ways to '99designs' where web designers compete with their mockups to earn your business, but you only pay when you find a winner…except here we're talking ad performance improvement.
Sounds awesome, but what about the questions I mentioned above?  Read on…
What Do You Know!? Good Writers Can Write For Anything…
So were they able to find pro writers to compete in my ad contests?  Yup, in fact I've heard from a few people I know quite well in the PPC biz who bang out great ads for them on the side. It turns out they now have hundreds of writers competing in the time since I originally spoke to David, their CEO/Founder.
Can they write for my niche?  Apparently so, CTR and conversion improvements on winning ads averages around 30%.  Some see bigger boosts, others smaller, but they regularly beat the control ads which is the whole point.
Check out some examples here on their "Win of the Week" blog.  (In one case they increased an ad's CTR by 415%)
Campaign Data & Privacy
BoostCTR has thought this through pretty well and their security measures are tight. For instance, when you submit an ad group to BoostCTR only a handful of the broad search phrases are included for writers to see. No other data is included, so search volumes,CTR, and profitability are never revealed.
BoostCTR writers rely pretty heavily on their own research and experience, as well as any information you include in your creative brief. The brief includes any specific requests you may have for how new ads are written.
Reject Ads You Don't Like
While I don't have control over who writes for my account or what ads are submitted per se, I still get the final say when deciding which ads to test and which ads to reject.  The creative brief I whip up ahead of time for the writers helps prevent ad submissions that I'm not comfortable with. But even if you do get an ad I don't like, I can reject it.
*When I reject an ad, I can also send comments back to the writer so he knows how to write better ads for me on the next round.
The Good and Bad of Crowd-Sourcing
If there is any downside to BoostCTR, it's that you can't choose or put a face to who writes for your contests. It is bonafide "crowd-sourcing" — an anonymous group of people who all work to improve your PPC ads. That said, the writer or writers who end up working on your ad groups may change depending on the time of day, week, and month you post new contests.
On the flip side, this lack of choice saves you time. Rather than worrying about the person writing for you, you can divert all your attention into deciding whether or not to run the ad or ads that have been submitted, which is a lot faster and easier.
And while this approach is a bit unorthodox, it's worked well so far. BoostCTR already has a stable of "Big Name" clients including CafePress, Expedia, 99 Designs, Beach Body, and many more.
Personally I don't care who writes it as long as it lifts myCTR and is appropriate for my campaign.  I'm looking for improved numbers vs. personality.
Who Should & Should Not Try BoostCTR
Obviously, if you're ad spend is under $250 a month, or if your search volumes are low, then BoostCTR probably won't be a good investment for you, try growing your traffic first.
But if PPC advertising is a big part of your marketing, and you're spending thousands of dollars a month, you need to try it.
(NOTE:  I asked David for a trial for PPCblog readers, here's the "ONE FREE CONTEST" Link Here They Provided)
I have to eat some crow here BTW as well.  I personally was not sure their model would pan out, but they're kicking butt at this and have now even expanded into doing Facebook image ads, something that's a major pain due to the fickle nature of FB CTRs and requirements for constant freshness in your ad creative.
Congrats to David and team (Now including Tom Demers formerly from Wordstream – good guy that Tom) on building a successful model by really hammering on one key pain point for advertisers: lifting conversions and CTRs with better ad copy.