One of the big advancements that made Yahoo advertising profitable again for a lot of advertisers was a new setting that allowed you to exclude the Yahoo search partner traffic and run your ads exclusively on Yahoo's core search engine.
With the transition to Adcenter, advertisers lost that control, and I personally wondered when/if Microsoft would roll out similar controls.
Looks like Microsoft's implementation of this went live today (or very recently at least)…
Hat tip to Matt Umbro for spotting this early and tweeting it out!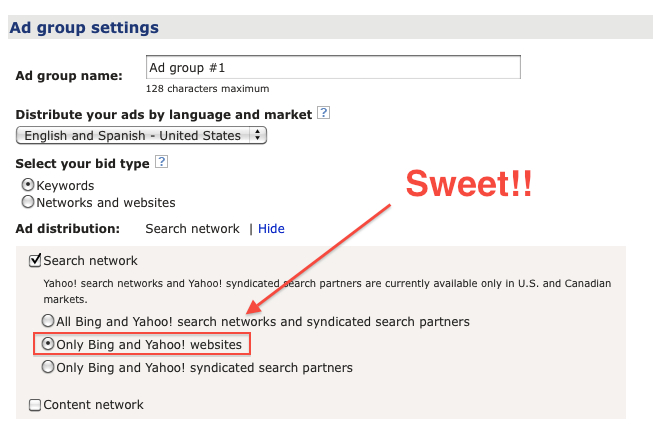 Sweet Release
Now advertisers can choose option number 2 under the search network to focus on Bing and Yahoo's core search traffic exclusively, which in my experience yields much higher conversions at a considerably lower long-term cost.
You can see this new option (provided it's completely rolled out) by clicking "Create Campaign" and scrolling to the bottom under "Adgroup Settings".
Update: Switch Your Existing Campaigns to Core Search Only
By default you'll see that Adcenter has opted you into "All Bing and Yahoo! search networks and syndicated search partners" for your existing Adcenter campaigns.
To change this setting in the Adcenter online UI:
Drill into your campaign and check the box next to "Adgroup" to select all of the adgroups in that particular campaign.
Then click the "More" button and select "Bulk Edit"
From the drop down selector box in the blue area choose "Distribution to Networks" and you can bulk edit your adgroup's search configuration.

Easy!