I was reading Twitter today and saw Yahoo! Ads Buzz share a link to a Search Engine Watch blog post highlighting trends in paid search. Both Bing and Google keep growing year on year, whereas Yahoo! Search Marketing has just been decimated.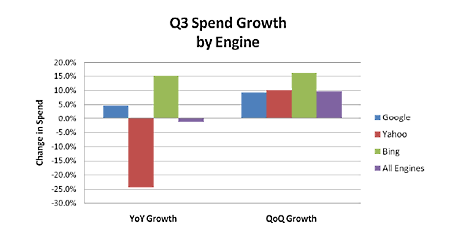 The shocking thing is that Yahoo! would even want to share a link that showed how badly they are losing marketshare in the paid search market. Or that they would be able to see the stats and not understand what is causing the issue, in spite of people spelling it out publicly and thousands of advertisers complaining about it.
As my buddy Sean Turner described via chat…
To break it down, yahoo gives you a feed for seobook.com & you give me a feed for turner.com. But all links that are clicked on turner.com redirect through seobook.com so that it shows up in customer logs as seobook.com If you block seobook.com, it will block ads from seobook.com, but not turner.com. The blocked domain tool works on what domains display, not on where the feed is redirected through. So if you are a customer, there is no way to know that turner.com is sending traffic (since it's redirecting through seobook.com) and no way to block it through seobook.com since that tool only works on the domain that is actually displaying it.

I found it because we kept getting traffic from gogogo.com. We had blocked it over and over and couldn't figure out why they kept sending us traffic. We couldn't find our ad on their site. I went to live.com and ran a site:gogogo.com search and found that it indexed some of those landing pages that use gogogo.com as a monetization service.
Yahoo!'s lone bright spot in the search market is their BOSS service. And now they are letting BOSS syndication partners monetize with Yahoo! ads, but they are being stupid about it – forcing you to go through a 3rd party partner so they have no way to clean the good from the bad.
Economic incentives are pretty easy to understand. Let people mix in junk with good stuff and they will keep watering it down.
There is an endless supply of fraud willing to take free money.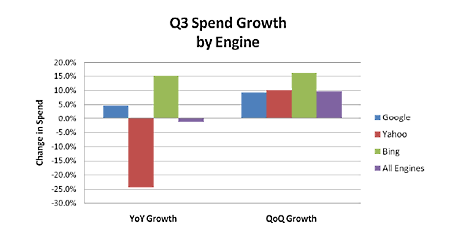 You only need to look at this 1 chart to see how bundling syndication and scams with search causes fraudulent activity. Advertisers are not stupid (especially during recessions). Which is why they have opted to shift ad dollars away from Yahoo! toward the other search engines.
Update: It looks like as part of a class action lawsuit Yahoo! is required to create an ad distribution channel that allows option out of many of the syndication types:
"Premium Providers" means: (a) all web sites and web pages (including any microsite), software applications and other properties on the Internet that are owned or operated by Yahoo!; and, at Yahoo!'s option, (b) all parts of the Distribution Network other than: (i) domain name parking sites; (ii) bulk registration sites; (iii) "pop-up" or "pop-under" windows; (iv) typosquatting sites; (v) "sliders"; (vi) "sidebars"; (vii) "injected ads"; or (viii) unsolicited spam email.
And in spite of that they still are running BOSS syndication through a 3rd party partner.