Matt from KeywordEye™ sent me a ping last week to have a look at a new, free keyword 'visualization' tool that he's been working on for some time now and asked me to give it a look.
It's a pretty neat concept: pulling from the Adwords API, KeywordEye™ pulls up associated keywords to your search and displays the results in a 2D or 3D 'cloud' format, with higher traffic keywords displayed as larger words in the cloud, and color-codes the keywords in the cloud green, yellow, or red depending on the amount of competition.
An even cooler part of this tool is the ability to view the visualized data by country, match type, and a few other variables.  As you hover over each of the keywords in the cloud you see the individual search volume (per month) for the local region selected.  Simply click on a keyword in the cloud to add it to the scratch pad on the right for export.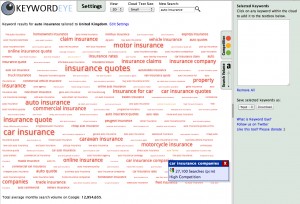 Click to Enlarge
The data in the tool is no different than what Google provides via their internal Adwords Keyword Tool, but I found that the way the data is presented helps you to visualize the scope of keyword possibilities for new niches you're looking into (particularly the 3D cloud view).
This unique way of viewing new keyword possibilities reminds me a bit of Google's Wonderwheel, a great way of viewing things as Google does from a relational standpoint.