Facebook has lagged behind MySpace when it comes to conversion tracking, but they're catching up, releasing their conversion tracking beta program to select advertisers.
Until now, to track which campaign or particular ad was converting you had to tag your ad destination URLs with a tracking ID or parameter, then go back and reference that manually to figure out if a given ad was converting or not…Ugh.
Conversions Without Clicks
Facebook has put their own spin on conventional conversion tracking however by allowing advertisers to track conversion events that happen on their site even if the user didn't click any of their ads, tracking on an ad impression alone.
Similar to Google's reasoning behind implementing "View-Through" conversion tracking, under the "Post-Impression Data" heading in Facebook's PDF 'Conversion Tracking Guide' they point out the motivation for this level of tracking:
"The ability to track Post-Impression…enables you to measure conversions from users who saw your ads without clicking them and so gives you insight into the true value of your ads."
i.e. "Keep buying display ads from us even if your CTR sucks…"
It's hard to imagine the amount of data crunching and storage they'll have to do to be able to reference what ad you've simply seen and successfully tie it back to conversion pixels firing on vendor sites' everywhere. But hey, if Google can do it, they can too.
They appear to hold onto that impression-recording data for at least a month as their new Conversion Time reports can tell you how far out the conversion was from the time a user saw an ad.
Nice Metrics You Have There
In addition to allowing advertisers to count conversions as they come in (FB says to expect roughly a 24 hour delay on conversion data), advertisers can dynamically add additional parameters to the FB tracking scripts included conversion values in dollars ("VALUE") as well as "SKU" to let you figure out what exact product the user ultimately bought or signed up for.  Definitely a nice touch.
Configuring Facebook Conversion Tracking
If the tracking beta has been enabled in your account, you'll see it in the sidebar of your Facebook Ads interface: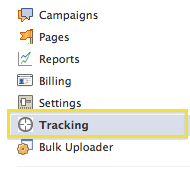 Next, select the type of action you'd like to track and give the a "tag name", or an easily-referenced nickname.  You can also add the conversion value amount to help evaluate ROI later on: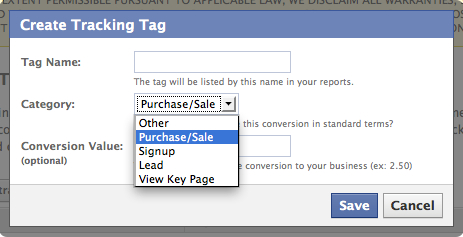 That's it, you end up with a small piece of javascript to insert before the ending </body> tag on your landing page:  (sorry for the tiny image)

Conversion Reporting – Apps, Fan Pages, & Events Now Included
When you run the conversion reporting, or "Conversions by Conversion Time" report, you can drill down to the account, campaign, or individual ad level, viewing how many conversions took place during given time frames and/or how long after impressions or ad clicks conversions happened.
If you've been using the 'VALUE' and 'SKU' parameters, you'll be able to see revenue figures as well as particular sale or lead type data.
Conversion metrics (conversion counts, rates etc…) have also been added to the regular campaign and ad reporting, adding the big piece that's been missing from these regular campaign reports.
Another nice touch to the new system is that if you are running ads with 'Inline Actions' such as "Become a Fan" or "RSVP to this Event", you'll automatically see "Conversion by Impression Time" and "Conversion by Conversion Time" reports including how many users responded inline by becoming a Fan of a Page or RSVPing to an Event from the ad itself.
These conversions show up in your reports associated with SKU values like "fan_page" or "rsvp_event".
App developers can add their FB conversion tracking codes on any Facebook apps hosted on your Page the same way that you would place tracking tags in the application independently where you have control over the page code.
A Great Addition, Lots of Data to Crunch
Facebook has taken conversion tracking up a notch here, particularly with the impression-only tracking capability.  It'll be interesting to see what kind of custom reporting can be crafted from the huge amount of data points Facebook's allowing advertisers to empty out of their reporting.
It has been pretty difficult getting Facebook ads to convert without advanced demographic and keyword segmentation, not to mention the reams of ads you need to continually load to beat user ad-fatigue and keep them clicking.  This new Facebook Ads feature will make that job much, much easier.