Ever thought it would be nice if Google sent you a ping if your top keywords suddenly saw their Quality Scores tank?  How about when you lose your top favorite top ad position?
Google's new filters give you the ability to configure custom alarms that can alert you via email or SMS when one of your top keywords (or any keyword for that matter) goes inactive or stops firing ads for budget reasons, sudden Quality Score drops, or moves by your competitors.
In addition to watching for traffic stopages, you can also monitor:
Avg CPCs
Spend Levels (Cost)
CTRs
Avg Ad Positions
Clicks
Impressions
Conversion Counts
Conversion Rates
Costs-per-Conversion
You can set up these custom alerts at the Campaign, Adgroup, or Keyword level for specific, selected keywords or adgroups, or ALL of the keywords or adgroups in your campaign if you like.
To enable custom alerts, click on the "More Actions" drop down likeso:

Here's a screenshot of the settings for doing this at a keyword level, where if the impressions on a top keyword disappear (for whatever reason, but usually QS drop) you'll get a ping from Google via email (SMS if you give them your mobile number, but who are we kidding they probably already have your number anyway:p ):
I use an alert for "if this top keyword gets less than 1000 impressions in a given day, let me know" to keep on top of critical quality score changes: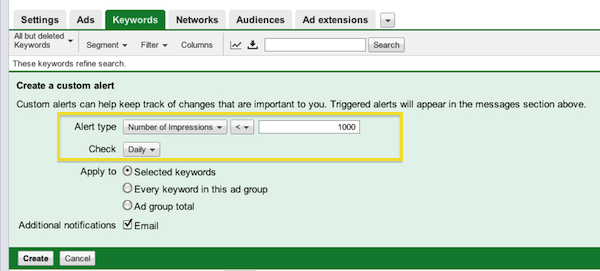 Jen at PPC Hero also had some great suggestions on how to use the new Segments capability as well.
Do you have a favorite new alert to keep you on top of your campaigns? Share it in the comments!