I'm always on the hunt for new ways to data mine the competition.
After seeing a beta Adsense competitive research tool called MixRank reviewed by VanillaCoke on the Seobook blog I thought I'd take a bit of time and check it out for myself.  I was also curious to see how it compared with another competitive research tool I've reviewed for PPCblog called WhatRunsWhere.  You can read that review here.
In this example I'm looking to dig up data in the health vertical.
First thing you'll notice when you perform a search on MixRank is the handy auto-suggest feature on the field, ordered with the biggest advertisers on the top. Type in one of you're broadest keywords and you're likely to get a whole list of domains who you've never though of checking out. I started with health… and clicked on the first result healthline.com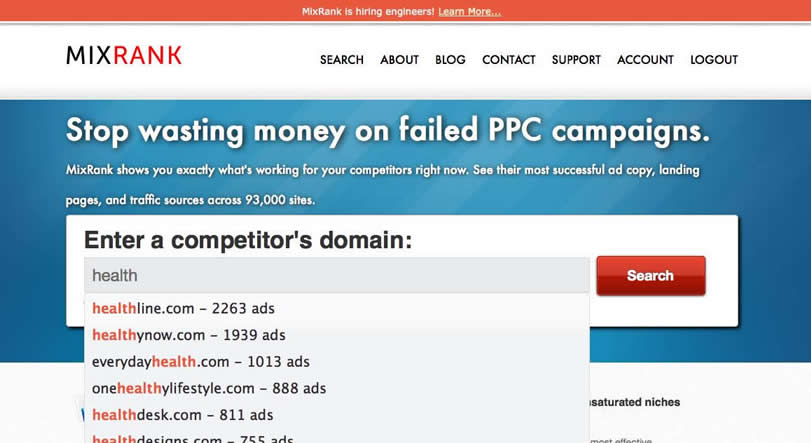 The results appear quickly and when the page comes up it's logically broken up into text ads, banner ads, and traffic sources.
Starting with text ads, I'm able to immediately see healthline.com's top variations. The default sort is based on ad frequency, but all the columns are sortable, so by clicking on the publishers column, I can see which ads are getting the widest site distribution. Conveniently, all data is exportable for  those of us who like to crunch data from all directions in Excel.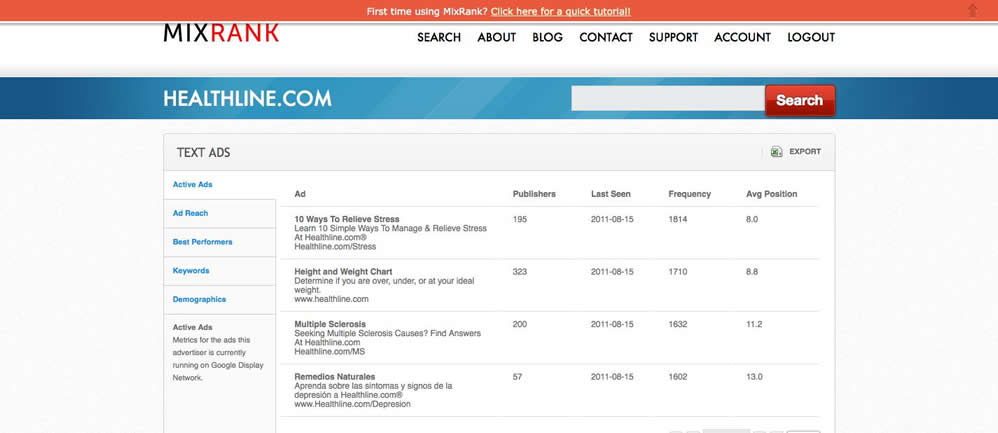 Flipping to the Ad Reach tab, I'm able to see a graphical representation of the total publishers reached per ad. This is the same metric as the previous screen, but in this case its charted over time, enabling me to quickly spot ads that are being ramped up or phased out. This is also great reminder that summary data can be deceiving. All time best performers aren't always what works best right now. You need to see ad trends, and with this feature they're quite clear to see.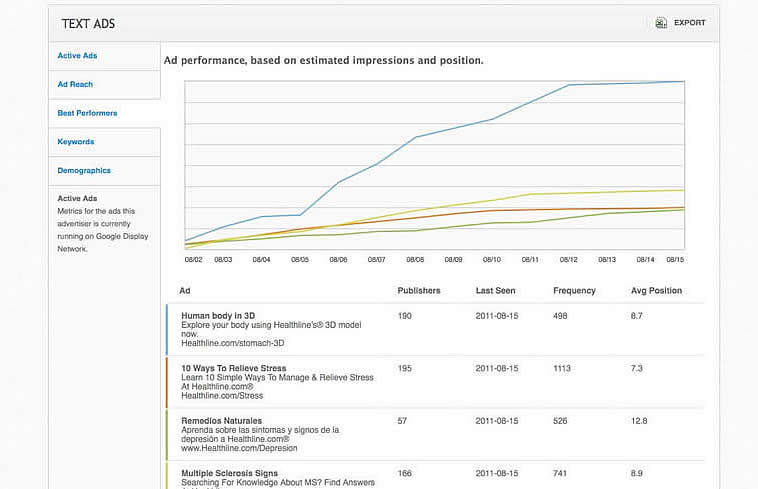 MixRank's best performers tab is pretty self explanatory. It graphs ad performance (based on impressions and average position) over time. Once again, immediately pulling out the ads that are going to be your biggest competition.
On to the banner ads section. I like that MixRank allows you to download all the banners from the 'download all' link. I do wish there were some metrics in this area to help me determine which banner ads are performing the strongest, and/or which sizes are getting the most play, but even just having the images and the last seen data (available by clicking on the images) is valuable. Certainly useful for inspiration/strategy on ad design.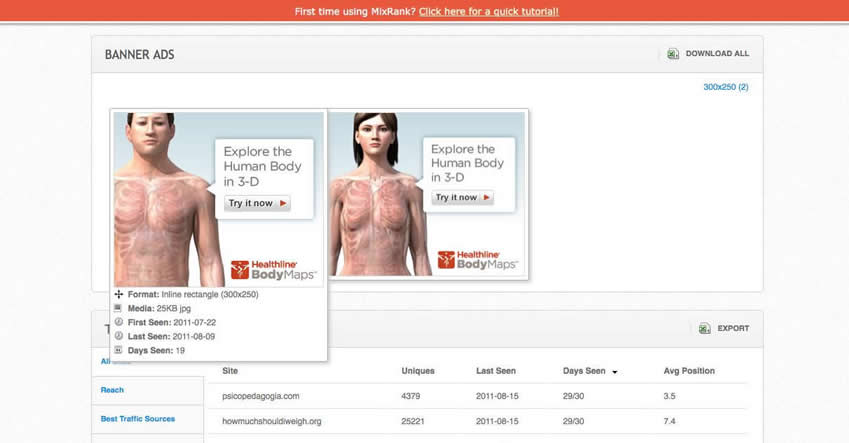 MixRank's  traffic sources section details all the sites healthline.com is getting impression share on. As well as the following data points:
Uniques – estimated number of unique visitors
Last Seen – the last time MixRank saw the ad
Days Seen – number of days in the last month MixRank was shown the ad
Average Position – the advertiser's average position in the AdSense block
For PPC, this is great for identifying sites that could be well suited to your campaigns. It could also be a way to identify where you're competition isn't getting traction – and an opportunity to either exclude the domain or optimize your ad content and outperform them.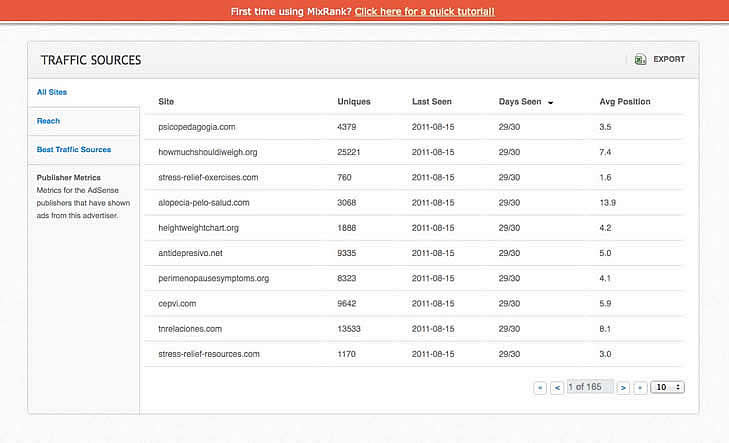 On the flip, as an Adsense publisher also, taking a look at some of the better performing sites was a bit of an eye-opener on what types of verticals I can optimize for. 🙂
Summing up, if you want to get a leg up on your competition, here's what you'll get from MixRank:
the competition's text ad copy and relative performance
their banner ads
the domains where their ads are showing
ad performance trends
While there's no shortage of spy tools available for Adsense data, going through them, you find that many are so complex that you can't just get in, get the data and get out without losing a whole chunk of your day.  So far, MixRank appears to be good at distilling the data down to useable, actionable bites.
The *beta* version of MixRank, which is being offered while they ramp up, is also laced with teasers for features that are on the way. I'm quite keen to see what they have in store for the 'keywords' and 'best traffic sources' tabs.
For the time being, MixRank is free, so go sign-up for the beta and give it a spin. As with all of search tools, it takes a little time for them to build up their database, but so far they're tracking 93K+ sites, so you're bound to learn a thing or two.