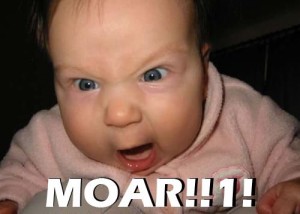 Perhaps you'll find this scenario familiar:
Your Adwords search campaign for "Vocal Lessons" features a fairly broad, say two-word keyword phrase like "can't sing".
You notice that the conversion rate is OK on this keyword, but the cost-per-conversion is a bit high. You've tried tweaking the bids on it to get it more profitable, but it's still just barely profitable.
Looking into it more deeply, you run a Search Terms report to see how Google matched your phrase-matched keyword to actual user queries.
You notice that the exact match [can't sing] has generated a lot of clicks but no conversions, whereas the exact match [why can't I sing] is the search that's actually driving the conversions on that "can't sing" keyword.  In fact, the cost-per-conversion and conversion rate on that exact [why can't I sing] keyword are fantastic, and you would like to get more of that 'hot' traffic and those cheap conversions.
So, you decide to add that exact search, [why can't I sing] to your adgroup as a keyword on its own.  Maybe you also raise the bid a bit on it to try and improve your ad position, hoping to grab even more conversions.
Then something strange happens:  After a little time has gone by, you notice that that exact match keyword, [why can't I sing], isn't converting at all anymore.
What happened to those sweet, sweet conversions?  You even bid up trying boost your ad position and that should give you more conversions shouldn't it?  What's happening here?
Blood From a Stone?
A good friend of mine (with an infinitely higher level of PPC skill than mine) once told me a few years ago: "Geordie: You just can't buy more conversions".  This was his point and it applies both to Display Network placement campaigns as well as Search:
Sometimes Google's 'mad scientist' mix of bid, placement, matching tech, and other factors combine in your favour and find pockets of traffic that for whatever reason, be it ad-to-keyword performance, bid, match type voodoo, or whatever, creates a 'conversion sweet spot' where the traffic 'just works'.
That's great news, but you can find yourself getting 'conversion greedy', trying to make that 'perfect storm' of elements spit out more conversions.  It just doesn't always happen.
In fact, more often than not I've found the opposite happens: One element (the exact match keyword) has been yanked out of the perfect storm and the entire sweet spot up and disappeared. Now, not only do you not end up with more conversions than you had previously, you can often end up with none.
Again, you 'just can't buy more conversions', or put another way, 'you can't get blood from a stone'.  If something is working, and working exceedingly well, you may be best off simply leaving it alone.
Another Approach to Tweaking the Keyword's Profitability
"But that phrase-matched keyword was barely profitable overall, you can't just leave it like that!".  That's true.  However you can make adjustments another way without messing with the mojo.
For example, if the Search Terms report shows, as it does in our example above, that when Google matches [can't sing] to your phrase-matched "can't sing" keyword, you net a lot of clicks but very few (if any) conversions, you can try adding the exact match [can't sing] as a negative keyword for this adgroup only.  This will filter out exact match searches for [can't sing], but won't stop your ad from showing on [why can't I sing], the query that nets you the most conversions.
* What can you do if you've tried isolating the keyword or placement and conversions went South?  All is not lost, often you can revert to the adgroup's previous configuration and bids and things will right themselves.  This often works, but nothing is ever guaranteed in Google-land.
The Only Route to More Conversions
The bottom line is that sometimes you just need to accept that you're getting the best quality and quantity of traffic Google can give you on a particular keyword scenario or Display Network placement.  Of course, you need to be profitable overall with your phrase-matched keyword, but it is completely possible to 'mess up the mojo' with what is working and shoot yourself in the foot by trying to get more for less.
If you want to garner a higher volume of conversions, you often need to move on and find another 'sweet spot' or 'perfect storm'.  The only way to do that is to keep testing new adgroups until one presents itself.  What you'll find is that there are pockets like this everywhere.  In one of my campaigns, a scenario like the one mentioned here has netted over 28,000 conversions over 4 years.  Having learned this lesson the hard way, I've let sweet spots like that lie and work their magic over time.
Have you run into this scenario before in your Search or Display Network placement campaigns?  Share in the comments!
PS: Don't miss our PPC Blog's Greatest Hits List, it's got all of our top PPC blog posts nicely organized for your viewing pleasure:)