Many remarketing campaigns use discount offer banners to try and recapture visitors who abandon the shopping cart.  For example they might 'remarketing cookie' bailout users and show them ads offering coupon codes or bundle offers – anything to get them back into a purchase.
The only danger with this however is that you might end up ticking off users who have already bought through the regular sales process at full pop.
To prevent this with buyers who come in via Adwords traffic, you can exclude "Sale" or "Lead" conversion audiences to your remarketing combinations.  Google uses their usual Adwords conversion tracking code that's likely already on your 'thank you' as a 'pre-configured' remarketing list:  People who have bought or signed up already.  Handy.
Add Your Converted Visitors as a Remarketing List
Here's how to create a remarketing list for people that have already converted (assumes you have regular conversion tracking already installed):
While in the Campaigns view in the Adwords UI, open the expandable left sidebar and at the bottom of the sidebar click "Control Panel & Library", then select "Audiences".
Now, create "New Audience" then "Remarketing List".
We'll want to name this list something that is familiar like "Adwords Buyers" , and we can reuse the existing conversion tracking tags (here called "Sale") instead of creating a new tag: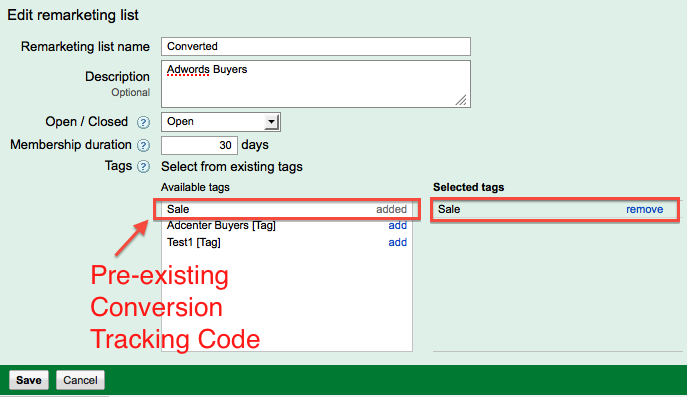 This will allow us to give our remarketing campaigns special instructions about how to handle people who have already converted via Adwords.
Create a Negative Audience to Suppress Previous Adwords Buyers
Now we want to update our existing remarketing adgroup or campaign to exclude these folks.  I already have my Adwords-sourced site visitors in a remarketing list running inside an existing remarketing campaign.
I'm going to add them as a campaign-wide "Negative Audience" to ensure I don't show discount offer ads to them after they've already purchased: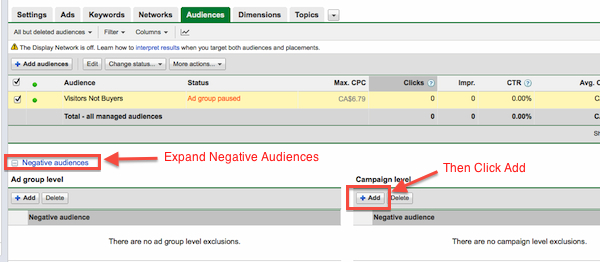 Now we'll select our "Converted" list to the negatives: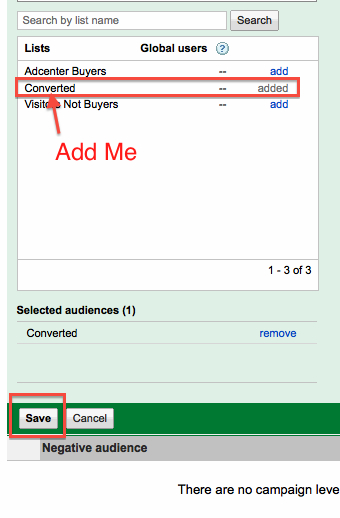 That's it!
Note:  This example bears out the importance of creating separate Display Network campaigns for remarketing.  The more granular you get in separating campaigns, the more targeted you can get in deciding who sees what ad as you grow out your remarketing efforts.
What About People Who Buy Via Microsoft Adcenter Traffic?
Google's conversion tracking shortcut for reusing existing tags on your thank you page doesn't work for suppressing remarketing ads against buyers from other traffic sources.
For that you'll need to tag buyers from non-Adwords traffic via a new remarketing list and place those tags on your thank you page as well.
To create the tags for this, follow the same instructions above to navigate to your Audience lists.
Again we'll create a new remarketing list from the "New Audience" button.
This time we need to create a new tag rather than reusing an existing one:

Now we can get the tag code to put on our thank you page:

Now we need to add these buyers are a campaign-wide negative list to our existing remarketing campaign as well (just like we did with Adwords buyers):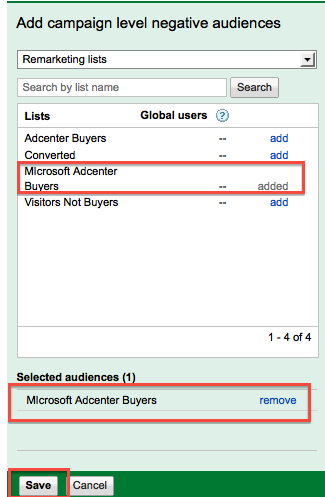 Done!  Now both Adwords buyers and those that buy via Adcenter or other traffic sources will be excluded from seeing our special offer remarketing ads.
Final Thoughts
Now it's true that adding just the "Adcenter Buyers" remarketing tag to the thank you page and adding that list as a campaign-wide negative audience will prevent ANY buyers from seeing remarketing ads from this campaign, this example gives you as a reader a better idea of how Google's conversion tracking can create list shortcuts as well as helping you not to forget about buyers from other traffic sources beyond just Adwords.
This also goes to show the importance of thoroughly thinking through your remarketing campaigns, trying to visualize who will see your ads and when.  Preventing people who have already bought from seeing your discount ads can save you a lot of grief.
That said, even buyers can come back for more, so you might want to think about what you could specifically market to people who have bought from you already.  Maybe you could create a custom remarketing campaign that just targets the buyers' lists with ads encouraging them to sign up for a deals newsletter or your general mailing list.  Don't waste the opportunity to keep selling!