UPDATE: Things appear to be returning to normal as of about 10am PDT today (Nov. 24th).  Our members are reporting that their scores and minimum bid amounts have gone from 3's and 4's to 7's and 10's sometime through the night.  Certainly a relief.  Hopefully the advertisers who jacked their bids as a result of this will bring them back down to earth soon and normalize the auction again.
This is getting kind of ridiculous: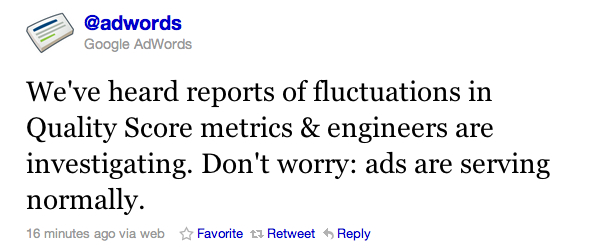 Not only was the last Quality Score "malfunction" not completely fixed (going back all the way to October), but it's happening all over again, and right before the busiest online sales weekend of the year. Add to that that this has been happening again for over 48 hours now.
Google's channels for communicating with advertisers on these huge issues is also broken. Why not put an announcement in the Adwords UI? They're simply tweeting (two days late) and posting randomly in their Adwords support forums, "Adwords Pros" are contradicting one another in the same threads, and then they come back and post stuff like this:
Adwords Pro:

Although I posted with essentially the same message yesterday, I think it's best that I re-post now – as there have been many posts since then, and the message could be easily missed.

Bottom line, I do not yet have concrete information as to what is occurring, and I have learned never to make predictions or guesses as to what might be occurring, or regarding a time-to-resolution. Going even further, I will typically not say that something is resolved until many hours after I've heard a formal 'all clear' from the engineering teams.

With all that said, I would again advise everyone to focus on their core metrics (CTR, CPC, and etc) and to not make changes to their account based on an unexpected change to their quality score. In fact, as a general rule I'd say that core metrics are the single most accurate depiction of performance – and the first place one should look if they notice Quality Score changes.

I will certainly keep this thread updated when I have concrete information to report. And, again, I apologize on behalf of Google for the uncertainty and upset.

Regards,

AWP
It might be true that quality score numbers aren't the be-all/end-all, but minimum first page bid estimates are definitely a major decision point for most advertisers.
Add to that that you'd have no idea that this whole 'malfunction' wasn't your fault and doesn't demand your immediate action if you weren't constantly trolling Google's support forum for news.
Here's the big problem though: For those who have no idea that this is a Google error, they WILL raise their bids and they WILL screw up the entire auction! Again: right before the busiest shopping weekend of the year.
So whether or not the "system" is serving ads normally, there's a thousands and thousands of human beings bidding for placement that will most definitely change the reality of ad serving.
The damage is likely already done here, and once again Google ends up on the winning side with what will will amount to a nice bump in holiday PPC revenue.