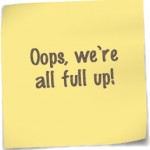 I just wanted to give a quick heads up that PPCblog's membership community is closing to new members starting tonight.  We've reached our membership goal, and I want to devote more time to providing our community with resources and advice and less time to new member acquisition efforts.
If you've been on the fence about joining, the $1 first-month trial is available until 6 pm PDT tonight, after which we'll be closed to new members until further notice.
Thanks so much to everyone for your support so far, the community's become a truly special place for PPC marketers to help each other and grow!
All the Best,
Geordie