I had an interesting discussion earlier in the week with a colleague about the difference between running your own Adwords campaigns and having a PPC consultant or agency manage your campaigns.
His comments were pretty pointed:
"Basically, the people managing other people's money don't care much about sweating the little "tweaks" Google keeps making, even if they'll raise prices.  If anything, it makes it better for them because the system is getting more and more complex, increasing the need for an expert to manage an Adwords account vs. the actual business owner."
It reminded me of this tweet from Wil Reynolds, disappointed with mopping up the mess of neglected client accounts: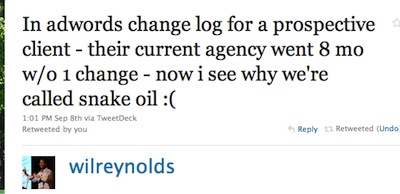 The Consultant's Challenge
For those that 'manage other people's money', running client campaigns it's an interesting thing to ponder:  Do I put as much attention to detail into my clients' accounts as I would put into my own, spending my own hard-earned capital?
I read an interesting quote from a prominent PPC consultant on how optimizing to improve 'Quality Score isn't really worth worrying about', just keep upping your bids and grab as many conversions as you can, profit is just icing on the cake or 'an incremental win'.  Easy to say when it's not your money in play.
Google's solution of course is to just let them look after everything: "Hey guys the system's gotten pretty complex, just toss us the keys and we'll take care of it".  If their systems worked as advertised 100% of the time in terms of meeting all of an advertisers goals, maybe that would work. Until then, having an engaged human 'keep an eye on the till' probably isn't a bad idea.
Mo' Money, Less Attention
Many PPC consultants have found, as I have, there's a direct relationship between how small the client is and how much time they spend looking over what you're doing, how much you're spending, and how things are performing.  The bigger the client, the less likely they are to keep pushing their consultant or PPC manager for an increasing ROI.
Therein lies the challenge:  keeping the same level of diligence and dollar-stretching as the spends get larger…