Note: This post is an abbreviated version of one of our PPCblog member's training modules.  Not a member yet? Join Now and get instant access to reams of expert guidance and tips!
Get Ready for Some Humble Pie
Keyword research is as much about uncovering what you don't know than reinforcing what you do.
Why is that?
Effective keyword research leads to really getting to know your prospects, which usually results in you completely throwing out your previous assumptions about what your customers want or think they want.
This can be a humbling experience as it can reveal holes in your PPC marketing strategy, both in your coverage of high-potential keywords and your landing pages.  Let's dig into this a bit more deeply with a couple of examples…
Looking Beyond What "You" Would Do…
Many businesses approach Adwords with a pre-set list of keywords in mind, all of which are based on what they would look for if they were the customer.  The assumptions that come out of this approach can be incredibly limiting to the effectiveness and reach of an Adwords search campaign.
Why?  Because we typically jump to conclusions about whether a particular topic strain of keywords will be effective or not at bringing in paying customers.
Here's some examples:
"Customers that are searching for a free product will never actually buy anything"
"My customers typically know my industry jargon"
"Customer with that particular type of problem won't pay for a solution"
"My customers are well-spoken when searching online for my product"
"There's nothing new in my industry that users would be looking for"
Let's look at the first assumption: "Customers that are searching for a free product will never actually buy anything".
Many advertisers shy away from bidding on keywords that include the term "free", assuming the user will only accept a free solution, product, or advice.  This is typically not the case.  Searchers often start with a query or two including the word "free" even though they may be perfectly willing to accept an appropriate paid product or solution.
One of the biggest advantages of Adwords ads is their ability to redirect a searcher's attention from organic, natural search results to an advertisement seamlessly.  This works well whether the user is searching for a competitor of yours or a free product.  Same difference.
Here's an example: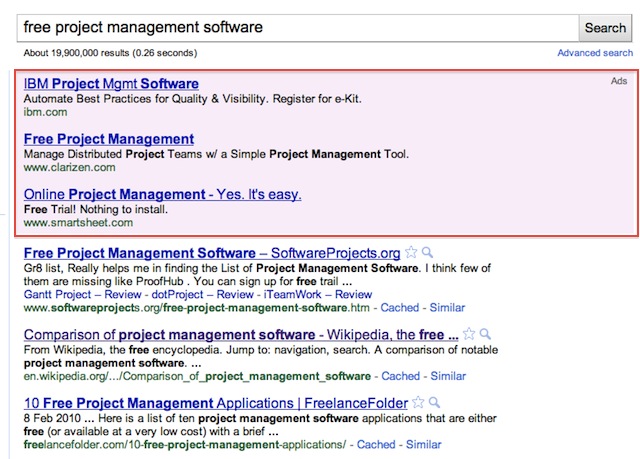 The user may start out looking for a "free" software product, but may also very well end up clicking on and purchasing the IBM or Smartsheet products listed above the SERPs.
Actually, let's be honest, the IBM ad sucks, so the Smartsheet ad deserves the click. The middle ad from Clarizen, highlights yet another strategy of using the word "free" but it's a stretch given the fact that their actual landing page offer is a free trial only. One more thing to experiment with.
The big takeaway? Don't be afraid to test out variants of your keywords that include the word "free".
Industry Jargon & Buzzwords Are Your Friend
Next, reconsider the thinking that your customers somehow inherently know your industry's buzzwords and jargon.  If you're not in an ultra-specialized niche, it's unlikely that they search for your product using the lingo you are most likely to use around the office.
Try to think past this assumption and envision the "dumbed-down" ways that your customers might be referring to your products or genre.  What would your mother call your niche or product? Stretch out and really think about how others who are not in your line of work would refer to your business, product or service.
The point here is that when you actually start digging into keyword possibilities using the tools out there right now- if you go beyond what you would personally look for- you'll find amazing opportunities to reach customers who would have otherwise never found you.
Have you had any success testing your assumptions during keyword research? Share them in the comments!