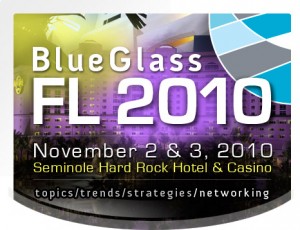 I'm very excited to be presenting at the upcoming Blueglass Florida conference in North Miami November 2nd and 3rd!
I'll be presenting along side the always-entertaining Marty Weintraub from AIMclear and the lovely Joanna Lord from SEOmoz.
The topic of our panel is advanced demographic targeting with PPC, and I'm looking forward to presenting my tactics for inexpensively capturing conversions from the best demographic of all:  the hot-and-ready buyer:)
Here's the promo for our spiel:
Advanced PPC Tactics : Styling & Profiling!

PPC is much more than starting a few campaigns in Google AdWords and then setting & forgetting. This panel will cover advanced tactics in behavioral, demographic & profile targeting within AdWords, Bing and the big daddy of profiling : Facebook! Want to serve customized ads to your target demographic that are going to lead to sales and long term brand loyalty? Then this session is for you. After an hour of discussion and tactics, you'll be ready to tweak your PPC campaign and take it to the next level.
The full lineup of speakers and presentations is available on the agenda page here.
The feedback from the first Blueglass LA was phenomenal, and Miami in November sounds like a smashing idea:)
Some tickets are still available, and more info on the entire event can be found here!
If you're planning on attending, be sure to drop me a line and let's meet up!