The 'Bing-ification' of Google marches ever forward and the little spyglass that showed up this morning in Google's organic SERPs has a little side effect on ad placement: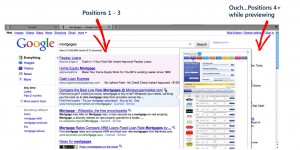 (+ click image to enlarge)
If you're in ad position 4+, you might as well not even be there when a user hits the spyglass.
Of course, this is likely just another test that may not ultimately stick, but they'll have to do something about the impact on the right siderail ad visibility.
One more reason for Google to herd you into the top ad positions.