The Wonder Wheel is a great little free tool by Google.
You can use the Wonder Wheel to quickly build keyword lists and Adwords groups in a visual way. With this tool, Google shows you the terms that relate most closely to your chosen keyword terms.
What Is The Google Wonder Wheel?
The Google Wonder Wheel is an interactive graphical application that shows related keywords.
The wheel starts with your keyword in the center, and shows terms related to that keyword in the "spokes" surrounding your keyword "hub". If you click on a related term, the wheel creates a new hub, revealing more related terms.
Here's how to find it:
1. Search on a keyword term.

2. Select "More Options…"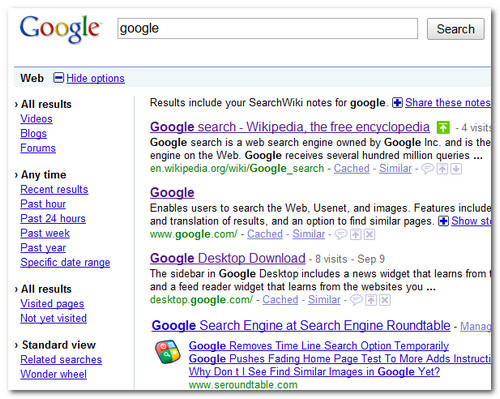 3. Click "Wonder Wheel"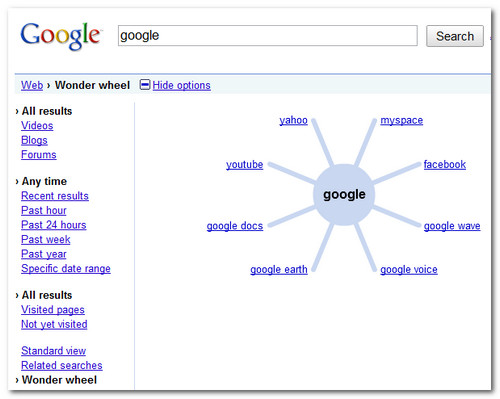 Let's say your main keyword area is "culinary schools". The Google wheel suggests related keyword terms such as "culinary arts", "pastry schools", "le cordon bleu", "top 10 culinary schools", and so on.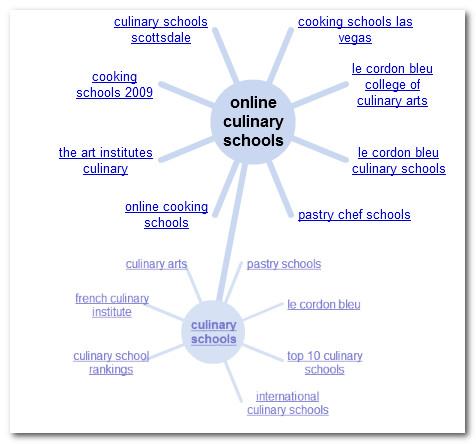 These keywords become your Adwords groups. Next, click on each of those terms, and you get further terms that will make up each group.
Easy, huh.
You get Adwords groups built around related keywords, which come together to form a theme.
Themes And The Content Network
The theme is particularly powerful when it comes to the Google Content Network.
The Content Network is Google's syndicated advertising network. You can choose to have your ad appear not just on Google search results, but also on sites across the Google's Adsense partner network. This option is turned on by default whenever you create an Adwords campaign.
Traditionally, many Adwords advertisers have turned off the content network because of perceived abuse and junk traffic. However, attitudes are changing as the network matures and the bid prices on Google's search engine head into the stratosphere. The ROI from the content network starts to look more appealing.
It all comes down to ROI. If it's positive, run with it.
In Google's whitepaper entitled "CPA Perfomance Trends on the Google Content Network", Google found that:
…..half of the advertisers had a Content Network CPA at least 2.6% lower
than their average Search Network CPA. In total, 51.6% of advertisers analyzed had an average Content Network CPA equal to or better than their Search Network CPA
It has taken a while, but it looks like Google and advertisers may have got Google's content network figured out. As the report suggests, it is important that the advertiser pay close attention to landing page optimization and site exclusion.
How does this all relate to the Wonder Wheel?
When Google looks to place your ad across the network, it does so based on themes.
If you use terms that are defined as being related in the Wonder Wheel throughout your text, particularly in your ad groups, you're more likely to show up on relevant sites across the network.
Google describe this affect on their Adwords Agency blog:
One particularly useful application of the tool is to identify new ad group themes for content campaigns. Since your ads are matched to publisher pages at the ad group level, creating different ad group themes helps you target your ads more precisely on the Google content network…..
You can then use the Google keyword tool, and your other favorite research tools, to flesh these groups out further.
As the blog notes, this is no guarantee of better performance, however the Wonder Wheel is a great – and fun – place to start.
Other attempts at keyword clustering can also be useful for campaign creation. Such features are offered via search suggestions on major search services, via synonym search (using ~) on major search engines, and as keyword clusters on many meta search engines. Specialty search services like the Quintura keyword map, Microsoft Search Funnels, Google Sets, and Google Squared can further help you come up with relevant keyword ideas.