Google announced on their LatLong (Maps) blog today that they're experimenting with placing pricing for hotels directly next to the hotel listings in Google Maps.
At first glance, it looked like another Google-internal affiliate marketing initiative, but it's actually quite clever.
Here's the official sample screenshot – Look closely at the price listing drop-down box in Adwords yellow: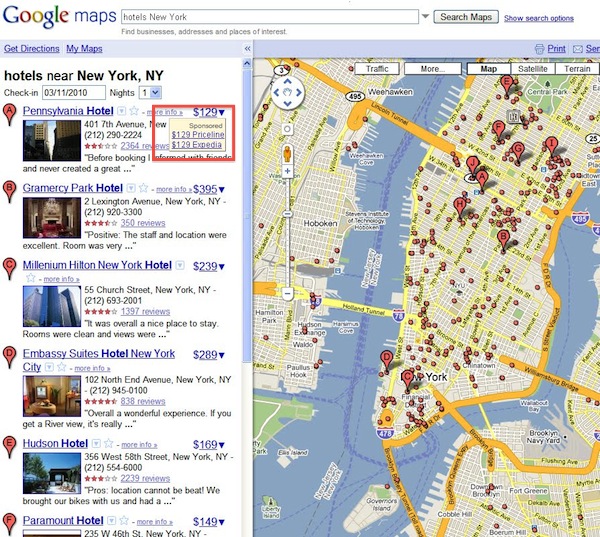 If nothing else, it's an innovative way to roll in Adwords results directly into the organic SERPs.
Paid Placement With a Twist
Interestingly, Google's post points out explicitly that these listings are not traditional paid placements:
This new feature will not change the way that hotels are ranked in Google Maps. Google Maps ranks business listings based on their relevance to the search terms entered, along with geographic distance (where indicated) and other factors, regardless of whether there is an associated price.
So the blur between paid and organic continues it's inevitable march forward.
It's also of note that Google has chosen affiliate sites like Expedia and Priceline as their preferred advertiser testing partners for this experiment, not the hotels themselves…
It will be interesting to see how this progresses, and what other verticals it shows up in.